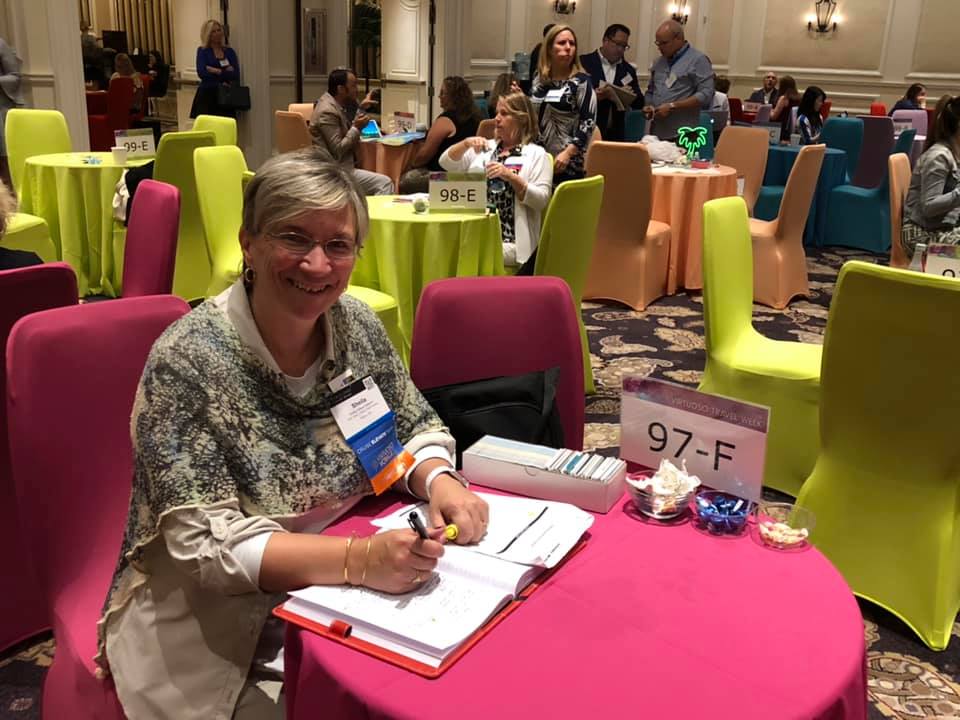 What happens in Vegas DOESN'T Stay in Vegas….
Virtuoso Travel Week is a wrap. #9 in a row is now on the books. I leave exhausted but exhilarated by new and renewed connections, networking, and learning about everything that's new in the world of bucket list, adventure, and luxury travel.
I'm ready to begin the sharing with you as my client. So, do let me know if you'd like to learn more, and we can schedule a consultation call.
This year, in Vegas, we had over 6,500 attendees. Here's just some of what I was up to:
a full day of "globetrotting" with adventure travel partners,
a professional development day for advisors with business training,
a special sustainability travel event (Under One Sky),
a "Cruise Night Out" for advisors who are at the top of their game selling cruises (and I always receive an invite to this exclusive event), as well as
4 days of speed-dating with travel partners (hoteliers, cruise lines, tour companies, destination management companies, private jets, and even shopping consortia) – with mornings of 4 minute meetings, followed by afternoons of 10 minute meetings with more
networking,
scheduled breakfasts, lunches and dinners over travel partner presentations, and
a few cocktail parties thrown in too.
With days that usually start at 6:30 am, and go to 11:00 pm (with very few breaks in between), it is a marathon of advisors like me making connections with travel partners – and leveraging the power of the one-to-one connection.
I always return with a head full of info and new ideas for my clients.  And, with the new and renewed connections with my travel partners, it often means that I have special access for you.
I know who to call to VIP you when you stay at their hotel. I know who to call to see whether I can get that cruise issue sorted quickly, and/or get some special access for a tour. I know which private jet company is right for you. And I know which company to call to get you access to the Sistine Chapel – whether you want access to the small group that goes for breakfast in the mornings, or you want complete private access by yourself before that. (Most anything is possible – for a price.)
You want to stay where Will and Kate stayed in the Seychelles for their honeymoon – I have that partner in my rolodex. You want to tour Scotland with the company that handles the Queen's holidays and car and drivers there – I have that partner on my speed dial. Want to do the Blue Train in South Africa, followed by a customized touring plan – I got you covered, and I know which partners will help me arrange the trip for you. How about a customized tour of New Zealand that involves zip-lining and jumping out of a plane – I can also do that. Or maybe you want to sleep in a pod that hangs out from a cliff over the Sacred Valley in Peru? Dig for dinosaur bones with paleontologists in the Gobi Desert? Want to sleep in a tent on Antarctica? Sleep out under the stars in the Atacama Desert in Patagonia? Maybe visit with penguins in Australia? Or visit all the Four Seasons in Hawaii by helicopter? Want to cruise around Scotland? Or cruise the Kimberleys in Australia? I know exactly who to call, and start to get your trip sorted.
What happens in Vegas DOESN'T stay in Vegas! Let me leverage the power of these fantastic partners in my Virtuoso network to help you travel the world.
Let's schedule a consultation call, and get your bucket list sorted!
sheila@lushlife.ca
613-837-0699