We seem to be finally turning a corner with this CoVid thing – can you feel it? We passed the one-year mark. One year ago today, we didn't realize how abruptly and wildly our lives would change. But now, vaccines are well underway in the US, and they are finally coming in Canada. While we're all still being cautious and taking needed precautions, there does appear to be a new level of optimism. Folks are starting to really think about travelling again.
While my American colleagues always seemed to still have clients travelling throughout 2020, most Canadians (at least my clients) were staying put. 2020 trips were rebooked to 2021, and now some 2021 trips are being rebooked to 2022 (if and as needed), but – I'm happy to say that the first week of March was quite busy with brand new bookings for clients. We're starting to see the light at the end of this tunnel, and there is definitely pent up demand to travel.
And, the pent up demand has people booking bigger trips. Hey – you couldn't travel for a year or so – so – when you can again, make it count, right? Bucket list trips are certainly on everyone's minds. And trips of a lifetime are getting planned.
This week, I've been planning trips to Australia (including a land trip and several Oceania circumnavigation trips), Japan (including group tours and customized trips), and I'm working with a couple of groups to get back on the rivers and expeditions to Antarctica. as well as South Africa.
I have a fantastic Travel Tuesday this week too with AMA Waterways – we'll be talking about their new SEVEN RIVERS, FOURTEEN COUNTRIES,
ONE EPIC JOURNEY in 2023.
And on Wednesday, March 10th we have a virtual event with Rocky Mountaineer.  (Email me at sheila@lushlife.ca if you'd like to attend.)
Coming up on Tuesday, March 16th, I'll host Silversea to talk about their cruises – including their world cruise.
Register for this Tuesday's AMA presentation here: https://us02web.zoom.us/meeting/register/tZ0qce2rqjgoHtZxjab1HExxXee8NMiQbc70
sgh 7 River journey flyer with full map
SEVEN RIVERS, FOURTEEN COUNTRIES, ONE EPIC JOURNEY
AMA has announced river cruising's longest and most remarkable sailing to date, brought to you by our very own Co-Founder, Rudi Schreiner. Never before offered in the history of river cruising, this once-in-a-lifetime 46-night journey sails through fourteen fascinating European countries aboard four award-winning river cruise ships and offers exceptional new experiences guaranteed to surprise and delight you
Departing on June 1, 2023: Paris, France to Giurgiu, Romania
Rivers: Seine, Rhône, Saône, Rhine, Moselle, Main, Danube
Countries: France, Germany, the Netherlands, Belgium, Switzerland, Luxembourg, Czech Republic, Austria, Slovakia, Hungary, Croatia, Serbia, Romania and Bulgaria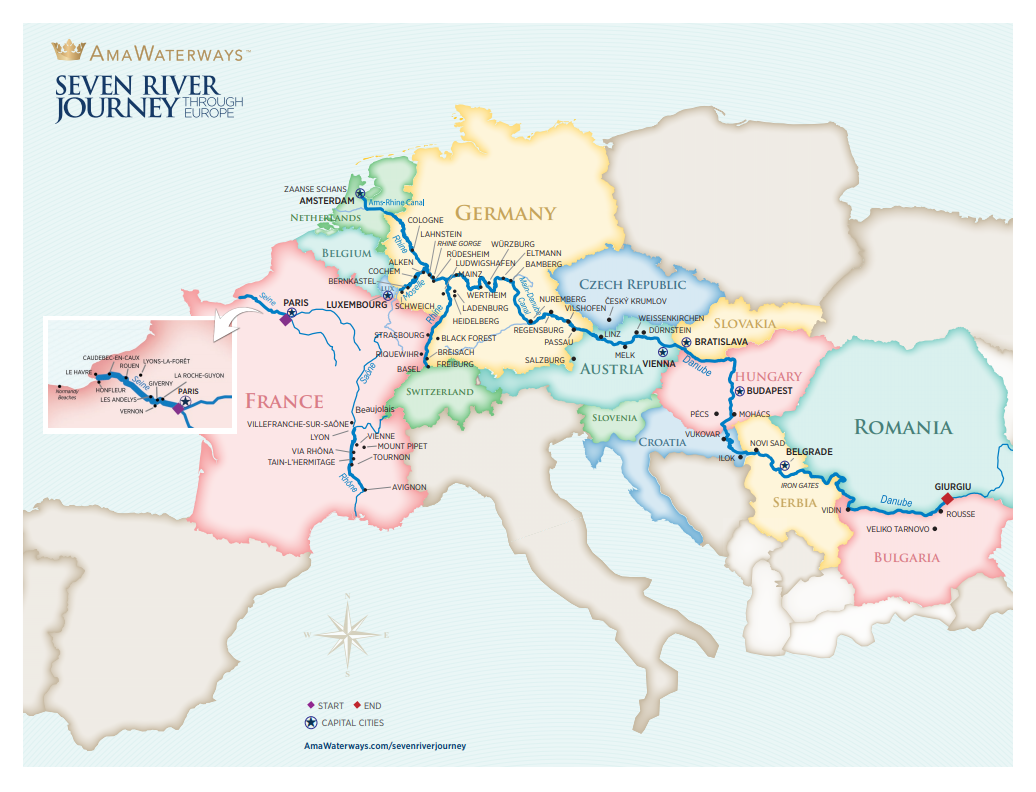 Contact me if questions. sheila@lushlife.ca