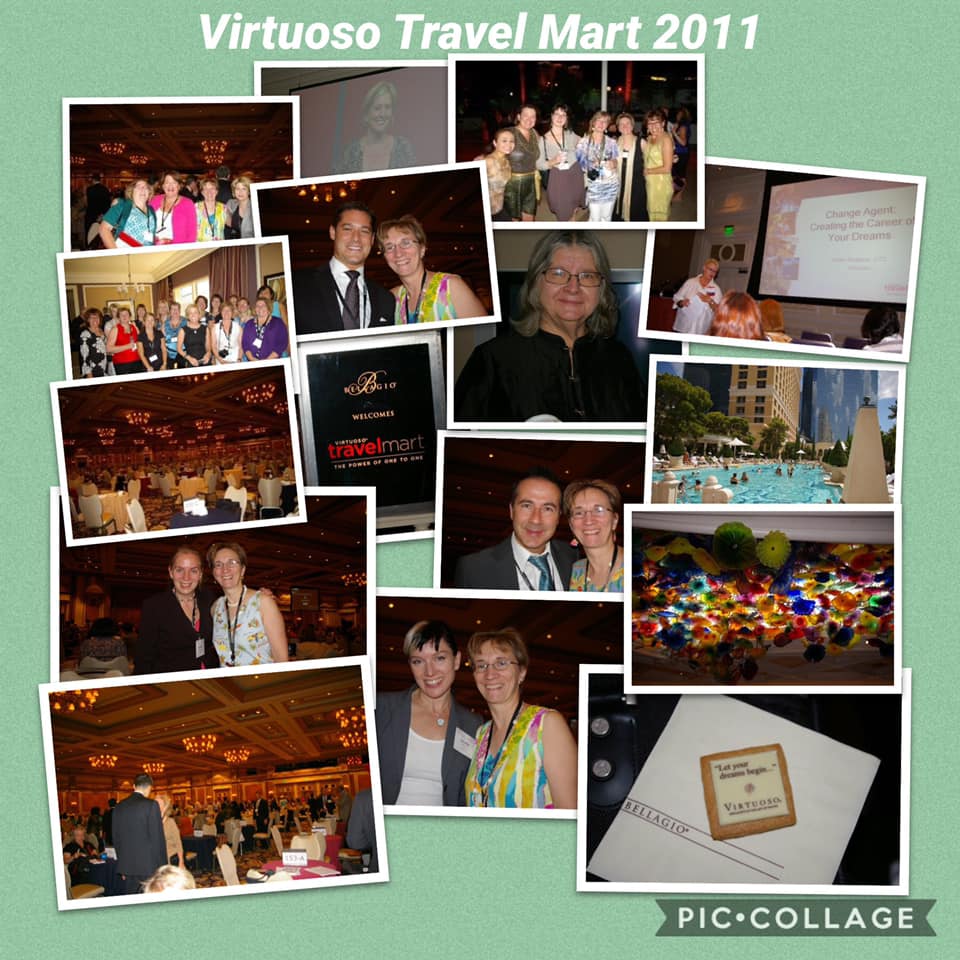 This week, I was registered to do my 10th consecutive Virtuoso Travel Week in Vegas. Every second week of August, me and 5,000+ of my nearest and dearest friends would converge on the Bellagio hotel in Las Vegas (and later spill over into the Aria and Vdara as well) for an exhausting but exhilarating week of learning, professional development, one-on-one meetings, in-depth destination trainings, networking, and schmoozing. It was the most important week of my business year. It's where I connected with my colleagues, and learned what was emerging in the world of travel. It's where I was surrounded by the best-of-the-best cruise line, hoteliers, destination management companies, tour operators, and other travel advisors. It's where I got both my energy and my renewed passion for the year ahead – inspired by what was ahead. And, it of course gave me oodles of ideas for my clients in their travels.
Think of it as the travel's world fashion week that takes over the runways in Paris, Milan, and New York – but – travel didn't divide between continents. We all came together in Vegas. And the growth we kept seeing, year after year, as partners from Latin America, Spain, Australia, Africa, etc all came to join us North Americans in Vegas. Virtuoso has been gathering for over 30 years now. And we keep getting bigger and stronger – all while emphasizing the power of the human connection, and the power of one-on-one relationships for advisors to make travel dreams come true for our clients.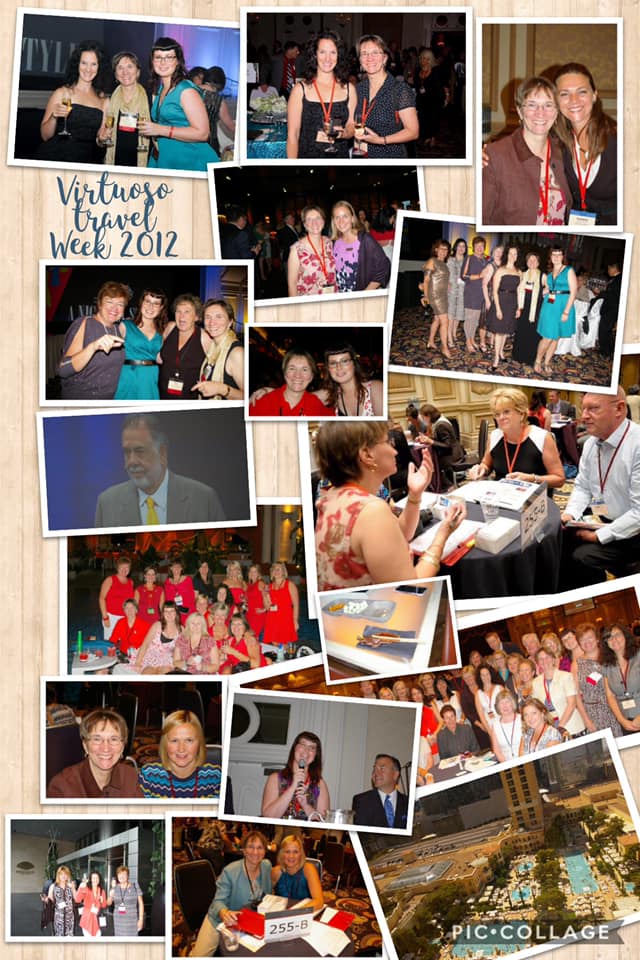 Where else could I meet a travel hotelier partner from Peru for breakfast, tell them about a client I had visiting them the next week, and arrange a special amenity for my clients with my partner (and, of course, make sure we had the right room configuration set for the family visiting)?
Where else could I network with a cruise partner about a client's wishes to golf while doing a river cruise, meet another cruise partner to ask about their VIP packages for the Monaco Grand Prix, and then meet another cruise partner to learn about their kayaking options while a client visits Antarctica?
Where else could I have lunch with a tour operator to customize a family safari to Kenya and Tanzania, and actually facetime the clients as the travel partner and I were discussing how best to structure their holiday, what conservancies would work best for triple accommodations, and how to plan their holidays to make sure they were best positioned to see the migration they wanted?
Where else could I have a networking meeting with a cruise company partner about an upcoming group I was putting together, and understand which of their ships would best suit the sort of networking and liaising that that group wanted to do while onboard?
Where else could I jump from table to table as we go through the intense speed dating tracks, and learn as much as possible for my clients about how best to help them travel the world – whether it's arranging that special getaway to Australia doing rock to reef, a Mongolian eagle festival, or a South Pacific special anniversary trip?
Where else could I have dinner with a destination management company in Spain, and make sure my clients would have the best experience to visit the Guggenheim museum in Bilbao, while still ensuring they had the best restaurant reservations too?
Where else could I have an evening cocktail with a private jet company owner, and understand how I could best leverage their routes for a multi-generational family getaway?
Vegas!
Always in Vegas!
So, it's with a little trepidation – and excitement – that in this CoVid virus world, I'll be attending my 10th consecutive Virtuoso Travel Week this year. Virtuoso Travel Week is going virtual. And – I can't wait!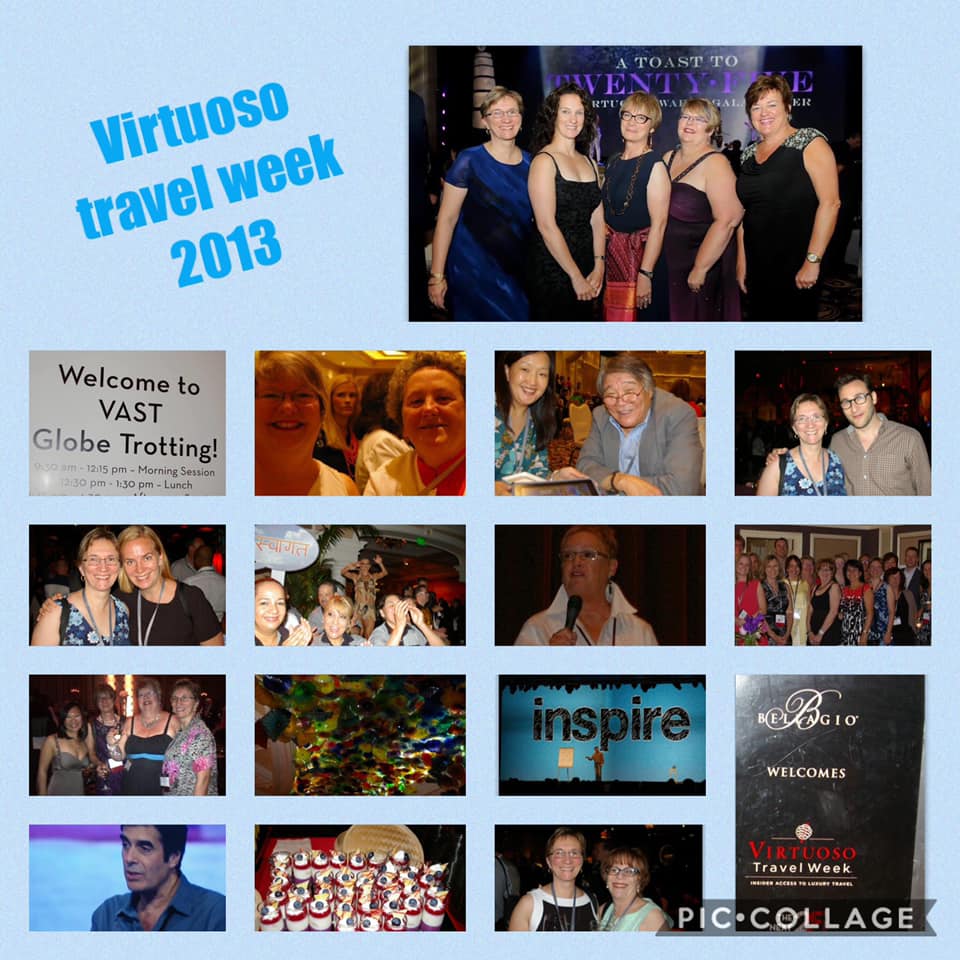 While the cocktail parties and dinners won't
be the same, they were not the main things I went to Vegas for in the thick of summer each year. No, I endured the 100+ degree heat (that had you mostly staying inside, freezing in the air conditioning), while leaving my family at home during peak summer holiday time for the energy, for the learning, and for the human connection of others who lived and breathed travel like I did.
The value of human connection is going to be on view this week. I'm curious to see how 5000+ can do a virtual meeting. I used to joke that the one-to-one speed dating of the tracks at Virtuoso Travel Week was speed dating on crack – roughly 300 four-minute meetings over 4 intense days, that were preceded by professional development, destination training, a cruise cafe (to meet individually with cruise partners), and a couple of dozen or so ten-minute meetings that you scheduled on your own. It was an intense 7-8 days.
We're going to have an opening session, and a renewed commitment to sustainability this year. There'll still be professional development and destination training courses. And I have over
 100 individual ten-minute meetings that I've scheduled for Virtuoso Travel Week 2020 – all partners I requested to meet with. And – I have others I couldn't fit in – so we'll be zooming and meeting separately.
Please let me know if you'd like me to "shop" for you – or learn about anything that you're interested in for your future travels. I am literally going to be connected to the world, this week, via zoom and some other souped up meeting platform that I'll be learning about in detail tomorrow morning. Monday to Thursday this week, I'm going to be head down, learning, connecting, and gathering information and resources for you to travel. (So, no Travel Tuesday this week – but hope to return next week.)
Let me know where you'd like to travel next!
And here's an little look into some of my earliest Virtuoso Travel Weeks.
From my first Virtuoso travel week in 2011
The Re-emergence of the Travel Advisor- the Power of One-to-One
and
What Happens in Vegas Doesn't Stay in Vegas
I can't wait to see what I'll learn this coming week, and what new connections I'll be making to help you travel the world.
Stay tuned!
I may even try a little facebook live each morning as I'm getting started for the day, and perhaps a little wrap up to share what I've learned each day.  I'll try for 10 am est, and 8 pm est.  Join me on facebook.
www.facebook.com/lushlifetravel
Email me or call me with questions.
sheila@lushlife.ca
613-837-0699