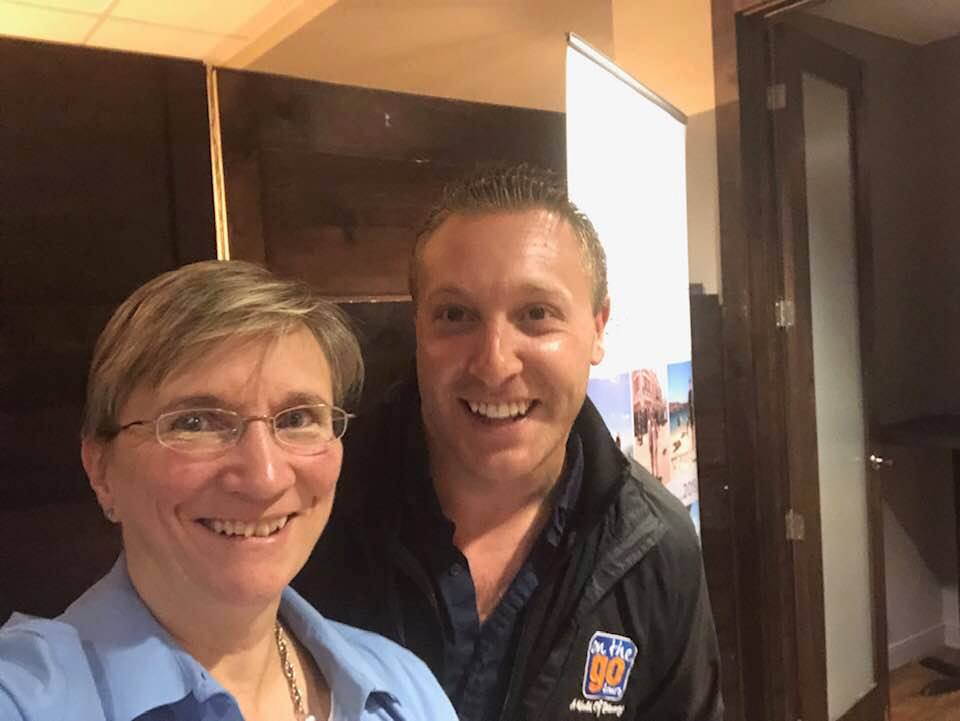 We had a great presentation at Ale – Amberwood Lounge & Eatery, Stittsville this week.
I presented soft adventure tours for solo & other travelers. And my special guest, Mike Quinto of On the Go Tours, joined the presentation to share updates on their tours, particularly those of interest to solo travelers. (However, they have tours for all)
I was very pleased to host this event that I put together at Ale Amberwood Eatery and Lounge, and thrilled that my travel partner, Mike Quinto, of On The Go drove from Toronto. Those attending found the presentations inspiring and educational.
Mike is such a knowledgeable and passionate presenter, and terrific ambassador for the On the Go company, so I really love leveraging my relationship with him to get him to come to Ottawa to present to my clients. I already have another group trip in mind (I've done recent Ottawa solo traveler groups to Iceland, Morocco, Vietnam and Cambodia with On The Go.)
We'd discussed the various ways On the Go's trips are friendly to solo travelers. You can find general info here https://www.onthegotours.com/Tours-for-solo-travellers-and-singles . But kindly remember, there are 3 options for solo travelers. You can:
Book a regularly scheduled tour, and take advantage of their roommate program (same sex share)
Book a regularly scheduled tour, and in many cases, request 'my own room' for a low solo supplement
Book a select date on select tours to take advantage of the "your own room at no extra charge"
The "your own room at no extra charge" (which I'll call YORANEC for an easy short-hand) is an exciting new development from On the Go tours.  I asked Mike to touch on several trips during the presentation (most YORANEC, but a couple were general tours) that might be of interest. For your interest, here is the list we'd mentioned. I've selected some dates that have availability, just in case it might interest you, and perhaps we can find company to travel with you from Ottawa.
Kindly consider:
Nepal – Annapurna Panorama – YORANEC – Dec.20.19 – Available
Morocco – Totally Morocco – YORANEC – Dec.28.19 – Available
Egypt – Sunchaser – YORANEC – Feb.18.20 – Available
Iceland – Northern Lights – regular tour – Feb.16.20 – on request but should be available
Vietnam – Hanoi to Hoi Ann – YORANEC – May.16.20 – Available
Jordan – Passage to Petra – YORANEC – Aug.9.20 – Available
Russia – Vodka Shot – YORANEC – Sept.8.20 – Available
Turkey – Aegan Explorer – YORANEC – Oct.31.20 – Available
India – Taj Traveller – YORANEC – Dec.5.20 – Available
All of these tours and dates (save Iceland) offer the free single supplement – so you would get your own room at no extra cost.
However, please note that this YORANEC is a terrific promo/ offer. This promo/ offer cannot be combined with any other promo/ offer/ deal from On the Go.
Please note that for solo travelers looking to travel over Christmas, On the Go also has grouped together those tours at this link.
https://www.onthegotours.com/christmas-sale
Remember there are some other offers coming in October. This is what is expected:
2-for-1 was Africa, Vietnam, and India
25% off Egypt
As with any other merchant, the dates, itineraries, etc. of a sale is totally up to them, and they will get to pick and choose what itineraries and dates are on sale.
Please let me know if I can help you get away with On the GO tours!
sheila@lushlife.ca
613-837-0699.