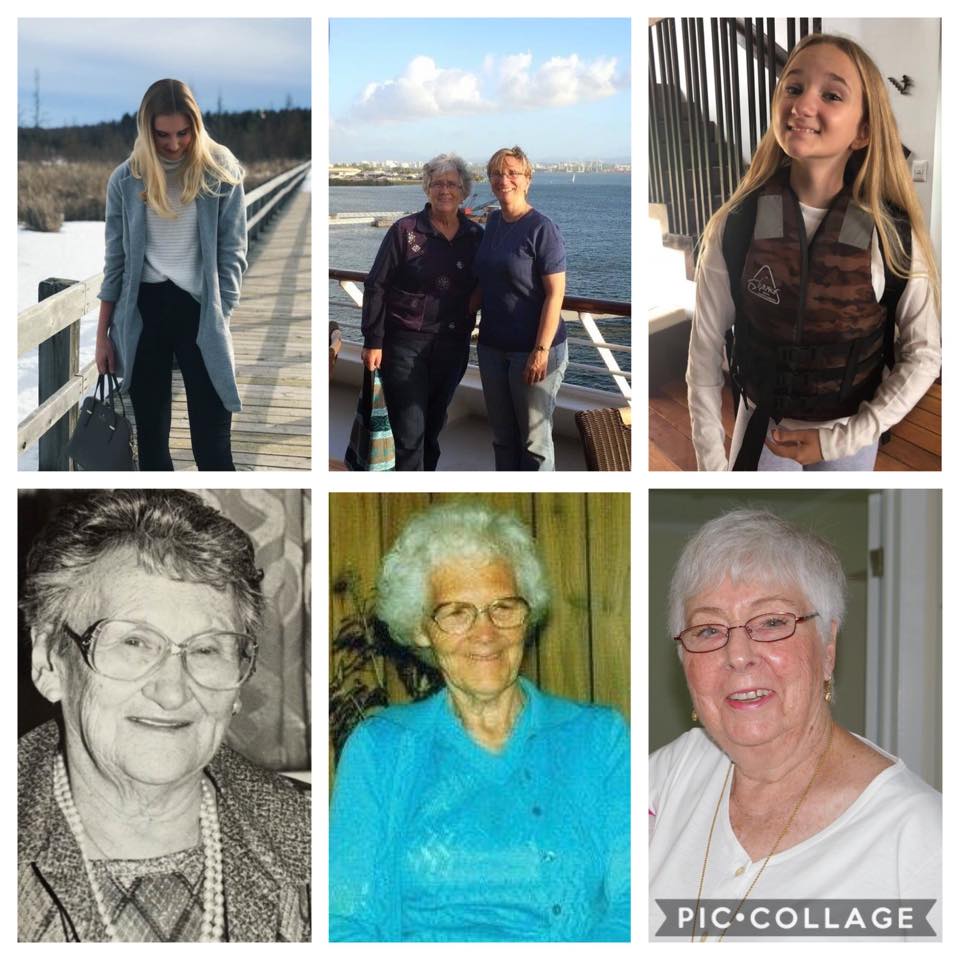 It's International Women's Day today.
Congratulations to all the women. May you celebrate the ones in your life – the one who raised you, the one you are (or married), and the one you may have raised. And of course, all the ones in your circle of influences – friends, relatives, neighbours, teachers, and more.
Here's a great shot –  Greta Thunberg Meeting Malala Yousafzai Is Exactly What We Needed  
What an inspiring couple of young women. It makes you realize just what one person can accomplish.
Of course, I am inspired by my mother, my mother-in-law, my grandmothers, and by my daughters.
And I look for inspiration in my work colleagues, who are mostly female – especially the past two weeks as we deal with the impact of Coronavirus. It's been a stressful time, but we are all working to protect clients' travel investments, and supplier's products.
I'm also proud of the women in my client circle. I was proud to take 75 people, mostly female, on the "Dashing through the Danube" river cruise with Shepherd's Fashions, a ladies' fashion boutique, in December – and – we'll be doing another cruise probably in the spring of 2021.
I'm also inspired by travel partners who are stepping up to recognize that women travelers are a demographic they should be supporting, in addition to families, couples, solo travelers, wellness, adventure, etc.
One of my Virtuoso partners, Intrepid Travel, has recently announced their Women-Only Expeditions. See https://www.intrepidtravel.com/adventures/women-only-expeditions/
Here's some info on Intrepid's Women-Only Expeditions – and – Intrepid has a 15% off special this week only. (And this applies to most of their trips worldwide – exceptions noted.)
---
Contact Sheila to book sheila@lushlife.ca
(Sheila will waive engagement fees to book your selected tour. If air assistance is needed, a small air booking fee will apply.)
Book now for 15% OFF all trips*
Save big on your summer vacation
Save big on your next adventure during the summer vacation sale.
Get 15% OFF all trips* departing April 13 – August 31 when you book by March 12.
Book now before summer departures fill up.
---
At Intrepid, we work pretty hard to ensure our trips are designed so that all our travellers have the opportunity to really get to the heart of a destination through immersive, meaningful, real life experiences.
However, there are some destinations and experiences that our regular groups don't – and can't – have access to.
With our female travellers in mind, and to coincide with International Women's Day, we're launching a new range of women's expeditions in Morocco, Iran and Jordan – and we couldn't be prouder. This is an exciting opportunity for our female travellers to learn about the customs, challenges and lives of women around the world; to immerse themselves in local experiences that have been otherwise off-limits to our regular group departures.
CHECK OUT OUR FULL RANGE OF WOMEN'S EXPEDITIONS HERE
Guided by some of our incredible female tour leaders, these expeditions will help break down barriers of traditional tourism in these countries, offering a deeper understanding of female culture in each destination. The trips will allow travellers to interact and engage with a range of amazing local women – young, old, religious, conservative, traditional and modern, from the country and the city – while respecting local values.
Why we're running women-only trips
RELATED: MEET SANA, THE INTREPID LEADER DEFYING GENDER STEREOTYPES IN INDIA
By the same token, many of the opportunities our groups have to spend time with local women are in the presence of men, and in a controlled environment. You don't find women in a lot of the roles you typically would around the globe (for example, in Jordan housekeeping is almost entirely done by men).  This means that there are limited options for travellers to really understand women in their real, everyday lives. The consequence of this can be a genuine misunderstanding of women in the region; misconceptions, stereotypes and generalisations that only contribute to a pretty wide cultural rift.
Breaking apart the misconceptions
RELATED: EVERYTHING YOU NEED TO KNOW ABOUT TRAVEL IN IRAN
In Iran, we're proud to boast a team of local leaders that are made up mostly of women, who are representative of a large percentage of Iranian women. They are fully integrated into the workforce; young, modern, independent, and highly educated (most young Iranians have one, if not two, university degrees).  Although gender segregation is not typically Iranian, strict dress codes imposed by Islamic Law have meant many places and ways of life have become segregated by default; beauty salons, parks, women-only subway carriages and overnight trains, gyms and yoga studios.
Ultimately, these expeditions are about breaking down barriers, fostering discussions, and debunking misconceptions.
Where can you travel on a Women's Expedition?
IRAN: WOMEN'S EXPEDITION – BOOK NOW
In Morocco, we'll visit the bustling city of Marrakech before breaking bread with Berber families in their homes, see how an artist-run co-op is empowering female rug-weavers in small villages, witness the lush beauty of the far-flung Bougmez Valley, and experience a traditional hammam (Moroccan bath) with local women.
MOROCCO: WOMEN'S EXPEDITION – BOOK NOW
And in Jordan, we spend a night in Wadi Rum to learn the ancient art of Henna with Bedouin women, discovering how Kohl has been used for years – not just as a beauty product – but to protect the eyes from the harsh desert sands. We also enjoy an afternoon at a local ladies-only beach at the Dead Sea, learn the art of Arabic cooking, share afternoon tea with local women, and spend time with a female shepherd.
JORDAN: WOMEN'S EXPEDITION – BOOK NOW
But why can't men be included?
We would love to open up these real life experiences to all of our travellers, however in order to operate in a socially responsible and culturally sensitive manner this is simply not possible – at least not yet. We see this is a positive step towards developing a deeper understanding of Middle Eastern and Moroccan women.  As we say; travel creates connections, builds empathy and breeds tolerance, which we need more than ever in the world right now.
RELATED: LIFE ADVICE FROM 8 INCREDIBLE FEMALE TRAVELLERS
Intrepid's stance on gender equality
Our commitment to women's equality and female empowerment extends beyond this new line of women-only expedition trips; we are committed to diversity and inclusion at all levels of the business, with the ultimate goal of doubling the number of our female tour leaders globally by 2020. You can read more about our gender and inclusion policies here.
---