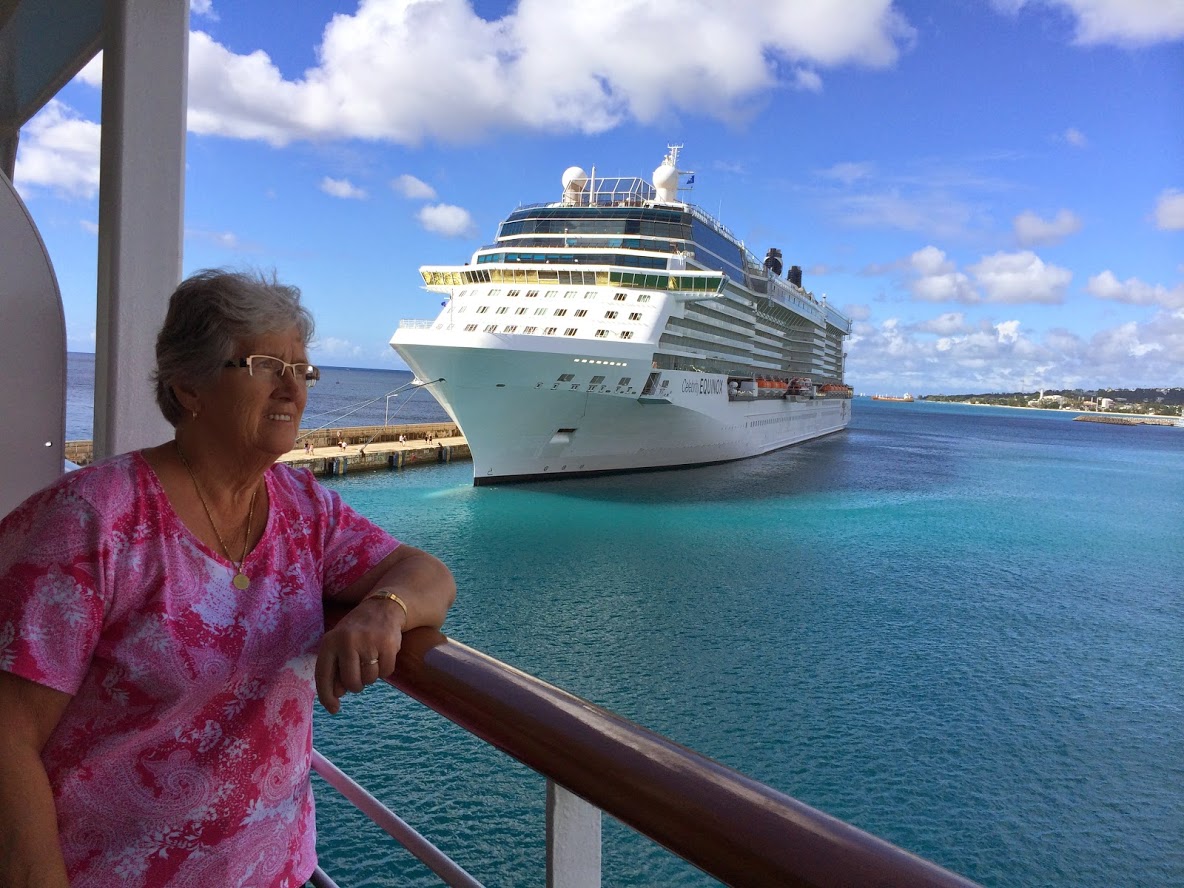 Summertime makes me think of water. It's the Newfoundland roots. Especially since I'm home now visiting my mom and extended family. And water makes me think of cruising.
Here's a picture of my mom onboard an Oceania cruise she and I did together. We had a marvelous time.
Ah, cruising.
Or should I say cruisin'?
Are you thinking of the Smokey Robinson song now? Got it stuck in your head? Well, if the mention of Smokey's song doesn't give you that ear worm (where the song is stuck on repeat inside your brain), see below for the Huey Lewis and Gwenyth Paltrow remake of the famous song.
Are you a cruiser? Have you done 100s of cruises, or never one but want to? Perhaps you feel like you've seen it all, and want a new destination – or – maybe you're nervous to even try, fearful of sickness?
Either way, I have a cruise for you. Whether you might be interested in the 57 day ocean cruise I just booked with Cunard sailing from Sydney to Southampton for two solo ladies, or whether you,d like the river cruise of the Nile I've booked with clients on Viking, or perhaps a Quark expedition cruise to Antarctica I've booked for a couple of ladies. There are smaller expedition cruises that are also river cruises on the Amazon, such as the one I have a client on in November, or expedition cruises to Galapagos or Costa RIca. And there are large ocean ships that sail around the Caribbean with 6000 people so that you're sailing in a moving mall.
Whatever your interest, there is something for you.
If you want to try ocean cruising, the Eastern and Western Caribbean itineraries are popular with many first timers. There are oodles of ships and itineraries – so we can work together to find the right one for you. And it all depends whether you want a big ship with lots of amenities such as a rock climbing wall or waterslide (like Royal Caribbean), or a smaller ship with a more intimate experience that will have a beach day with the back of the ship transforming into a marina (like Seabourn).
Also popular with new-ish cruisers is Alaska. There are some bigger moderately priced ships that sail regularly – like Princess and Holland America. There are also luxury lines that include Alaska in their offerings – like Silversea and Regent and Oceania (although not every year). There are also some fantastic expedition experiences like Lindblad Expeditions that focus on you seeing the land and the wildlife.
Did you know that you can also cruise around Australia and New Zealand? How about a cruise to Tahiti and the Cook Islands? Maybe a cruise around the Hawaiian islands. Again, there are many ways to travel – depending on the size of the ship you want to go, the level of service and comfort you want to experience, and the amount of time you want to sail. HAL has 30+ day itineraries. Paul Gauguin has more intimate experiences (300 guests onboard) to give a true Polynesian experience. And with Hawaii, if you want the islands without returning to mainland USA or Canada, NCL does a fab island experience and Uncruise does an expedition experience.
Galapagos and Antarctica are done best by Lindblad Expeditions – they are definitely the best in class. And they also have shorter itineraries now called "wild escapes" that will take you for a shorter experience to Alaska, Galapagos, and Costa Rica. But there are also folks like Quark and Silversea and others who sail these area. It's all about finding out what you want your experience to be, how you want to spend your days, what learning you want to experience, what's the food experience you want, do you want to sail with naturalists, etc that will help me recommend the best experience for you.
And then there's river cruising. What a fabulous way sail – you always see land, and there are no waves – so no seasickness. You can cruise the Nile and the Amazon, Russian Volga, any of the European rivers like Danube and Rhine and more, or maybe China and Africa too.
Want to learn a little more about river cruising to see whether it might be for you? Download my "Beginner's Guide to River Cruising" – here's the link https://lushlife.lpages.co/the-beginners-guide-to-river-cruising/
I also have a beginner's guide to expedition cruising to the Antarctica and Galapagos. If you'd like to see them, shoot me an email at sheila@lushlife.ca or call 613-837-0699