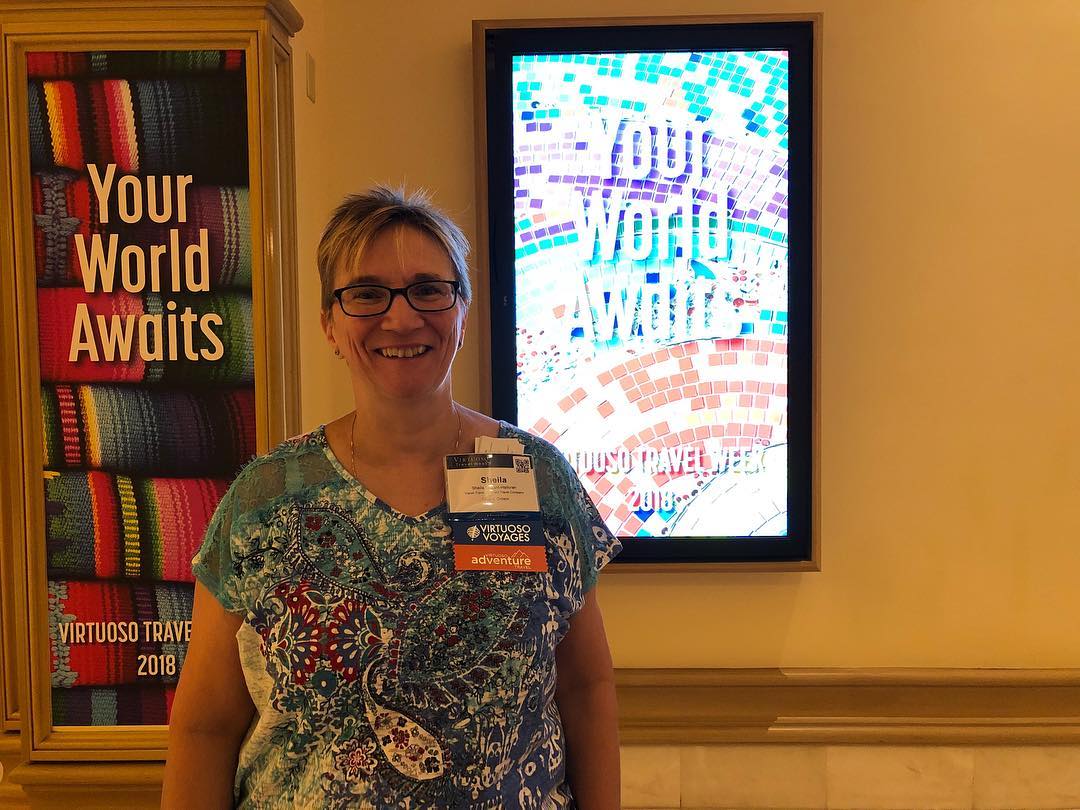 Your World Awaits!
I've just signed up for Virtuoso Travel Week again in  Vegas this August – where the world's best travel advisors, cruise lines, hotels, tour operators, and destination management companies all come together to focus and learn and re-connect with what is happening in the world of travel.
I'm also thinking about David Bowie this morning – Ch-ch-ch-ch-Changes. (Video and lyrics below – you're welcome for the ear worm!)
First, we hear Westjet was bought by Onex https://ca.finance.yahoo.com/news/onex-in-deal-to-acquire-westjet-121132341.html
And then we heard Transat was in an exclusivity discussion with Air Canada to discuss purchase https://www.cbc.ca/news/business/air-canada-transat-1.5138180
This comes after recent issues with other airlines like Jet Airways in India https://www.firstpost.com/business/jet-airways-crisis-exodus-of-top-executives-continues-two-more-senior-officials-quit-airline-taking-total-exits-to-6-in-two-days-6641481.html
And concern about Avianca https://www.bloomberg.com/news/articles/2019-05-15/avianca-bonds-fall-to-distressed-levels-after-s-p-warning
and news that Delta airlines receiving some attention for union busting https://thinkprogress.org/delta-letter-bernie-sanders-elizabeth-warren-union-busting-52f6e11c42ed/
There's a world of tumult in the airline industry – but, of course, that's nothing new. There is always lots happening in the world of travel, and there's never a dull moment involved when you're helping "keep the world moving" – which is essentially what I do, as a travel advisor.
Travel & tourism has a huge contribution to the world economy. See https://www.wttc.org/-/media/files/reports/economic-impact-research/regions-2019/world2019.pdf which notes "As one of the world's largest economic sectors, Travel & Tourism creates jobs, drives exports, and generates prosperity across the world." In addition:
" In its annual analysis quantifying the global economic and employment impact of Travel & Tourism in 185 countries and 25 regions, the World Travel & Tourism Council's (WTTC) research reveals that the sector accounted for 10.4% of global GDP and 319 million jobs, or 10% of total employment in 2018. The division of overall spend is firmly weighted towards the leisure market, which represented 78.5% of the total compared with 21.5% for business spend, and the sector accounted for 6.5% of total global exports and 27.2% of total global service exports. Domestic tourism, which represented 71.2% of all tourism spending in 2018 and had the strongest growth in developing nations, continues to support opportunities by spreading development and regional economic benefits and building national pride."
I'm proud of a global network that keeps the world moving, and travel literally keeps the world moving – and its economic engines turning.
There are big changes ahead in the industry – and we'll see what actually shakes out with the airline industry in Canada, the states, Latin America, India, and elsewhere. There will be consolidations and mergers, and no doubt some closures along the way. But – the world of travel will figure it out. It always does.
As an industry, we've survived the cataclysmic effects of 9/11, terrorist attacks, flooding, wild fires, ash clouds/ volcanoes, snow apocalyse, Sars, bird flu, Ebola, hurricanes, tornadoes, cyclones, US economy collapsing, Canadian dollar tanking, and so much more (including a blast in Egypt today- and I've been on the phone all morning on a Sunday morning to ensure my clients visiting there now are 'a ok' – they are!).
I've been in travel for 13 years now, and there's easily some major catastrophe or significant financial or environmental event that impacts my work and the travel of my clients. There's never a dull moment. But the travel industry survives, and thrives – despite it all.
So, there are changes afoot – but we'll come out the other end stronger and better for it. Just have a little patience with the ch-ch-ch-ch-changes!