Beauty Inside & Out  - 
December 6-13,2019
Dashing Through the Danube with Shepherd's Fashions & Friends
updated Nov.01.19 - changes made since fall in red, with date of change noted
You're invited to join us aboard one of U by Uniworld's four star ships, in December 2019 for an enchanted cruise. We're celebrating the season by dashing through the Danube, exploring the Christmas markets of Europe with new and old friends.  We're sold out!  Let me know if you'd like to be added to the wait list.
Your hosts are fashion and business leader, Marlene Shepherd; Cityline's style maven, Lynn Spence; happiness expert, Kathie Donovan; nutrition/fitness specialist, Kathy Smart; and travel expert, Sheila Gallant-Halloran.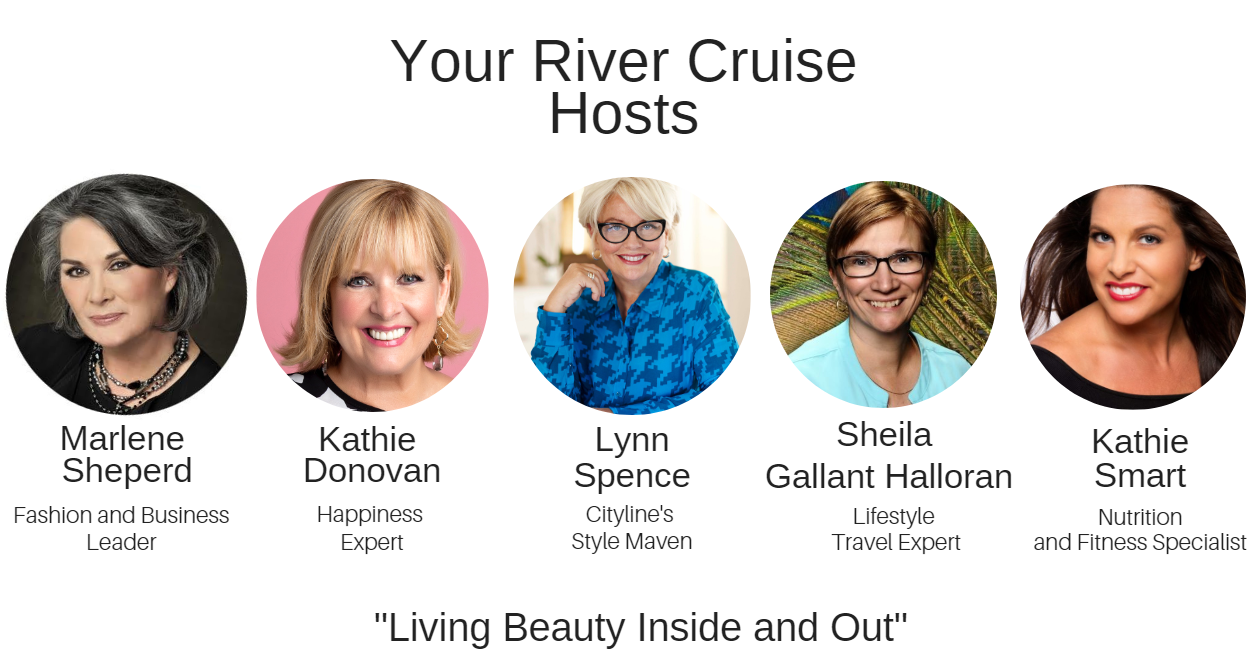 Watch: 
We'll visit historic city centres, like Budapest and Vienna, nestled along the Danube River, steeped in old world charm that's beautifully reflected in joyful Christmas markets.  We'll get the inside track on the best places to shop and visit the markets with Lynn Spence to make the most of our stopover in each memorable city.
Watch Lynn Spence's invitation (recorded for our Jan.15.19 event at Shepherd's.) 
And watch an overview of that same fashion show & cruise night event we had on Jan.15th at Shepherd's Fashions. Michelle Palma of Uniworld describes our ship, as well as our sailing here (Michelle starts about 10 minutes in, after my introduction) . 
You may also watch Shepherd's Fashions on CTV "News at Noon" on Jan25th with packably perfect segment for cruise wear. See https://www.facebook.com/shepherdsfashions/videos/141739913419170/ (Marlene & Kathie talk about our cruise at the 7:06 mark.)
Onboard, we'll offer short seminars, focused on beauty from the inside out with our guest presenters, who will set the stage for our visit to each city and offer Coffee Talk style chats about everything from home and style tips to managing hormones and navigating change with grace.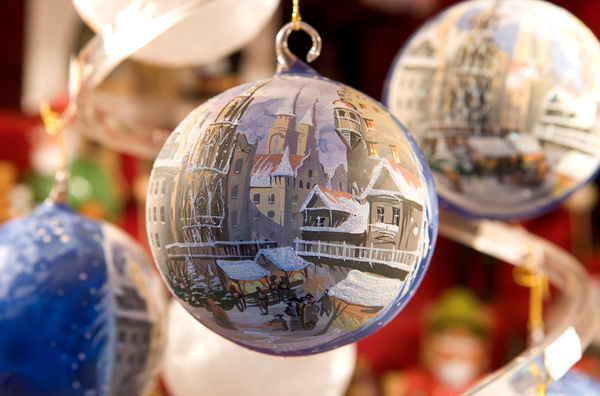 Put yourself at the top of your gift list and join us for a travel experience that is sure to become a treasured memory and perhaps a valued tradition, just in time for the holidays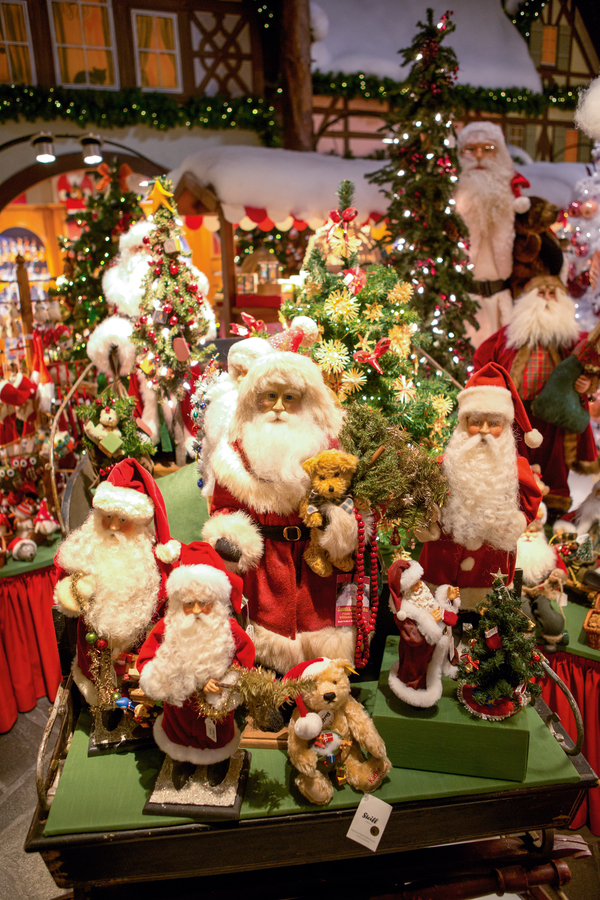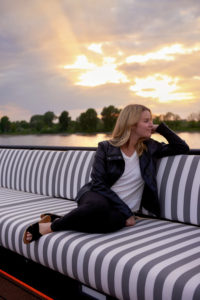 We have special pricing, loot bags, and goodies, as well as an onboard welcome cocktail reception, that is only available to our guests. (We may take over the whole ship!)
Please contact Sheila at sheila@lushlife.ca or sheila.gh@visiontravel.ca or call 613-837-0699 to join us onboard.
---
The Itinerary
Oct.21.19 update - itinerary always subject to change, but this is the latest and greatest info.
Remember too - river cruises are unlike ocean cruises. Timing is "fluid", literally and figuratively
- it all depends on water levels and traffic on river, and river master gets to set. ( Right click on photo of itinerary to open in a new tab.)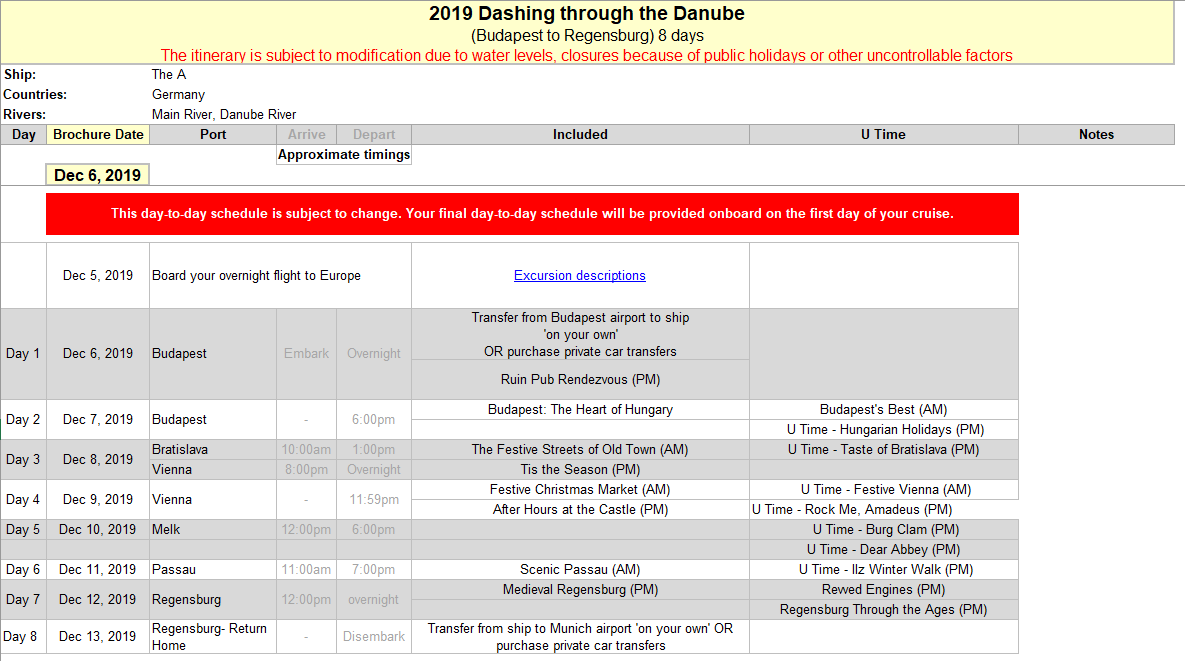 See for a day-by-day itinerary, as well as detail about included excursions, and optional (for a fee) "U Time" excursions.
https://www.ubyuniworld.com/ca/river-cruises/dashing-through-the-danube?year=2019
---
The Ship - "The A"
Parent company, Uniworld River Cruises, renovated two of their ships for their new cool sister company, U by Uniworld. We'll be sailing on "The A"  on our Dashing the Danube river cruise. (U by Uniworld's other ship is named "The B", which sails the Seine). The A is a sleek and chic black and white version of it's former self, and offers a wonderfully intimate experience. Maximum occupancy is 130 passengers.
"The A" has just been named the "best new river cruise ship in 2018" by Cruise Critic.  See https://www.cnn.com/travel/article/cruise-critic-editors-picks-2018/index.html  And the ship itself, "the A," has been named as one of the top 100 World's Greatest Places to Visit by Time Magazine. See http://time.com/collection/worlds-greatest-places-2018/  and http://time.com/collection/worlds-greatest-places-2018/5366761/the-a-cruise-ship/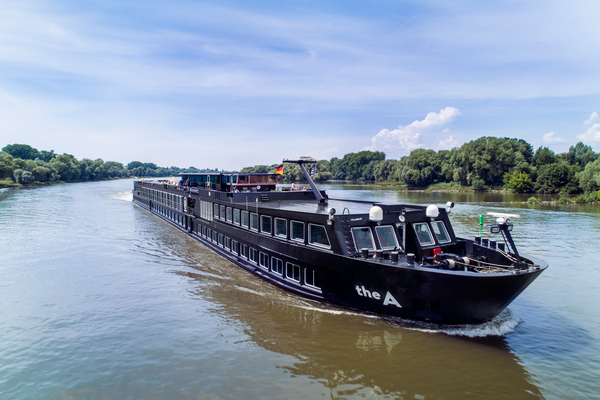 You may also check out this video tour done by Jason Leppert of www.popularcruising.com who did a video tour of our ship, "The A,"and gave me permission to post here.   .
---
The cabins:
We essentially have 3 cabin types - studio, French balcony, and suites. (There is a fourth category called a studio triple, that has 2 cabins available, and is quite small with 3 berths.)  See https://www.uniworld.com/ca/ships/the-a/photos/
Studios and Balcony cabins are 128 sq ft. Suites are 256 sq ft.
The cabin size is the same between the Studios and Balconies. The studios are on the lower deck (highlighted in green below), and have a 5 ft x 3.3 ft window that does not open. The Balconies (highlighted in blue) are on the upper deck, and have a French Balcony door that slides open. The Suites (highlighted in red) are also on the upper deck. There are also two studio triples (highlighted in yellow) on the upper deck.
Please note: there is no elevator on the ship.
There are also no cabins with external / sit out balconies - there are only French balconies on both the Balcony and Suite categories.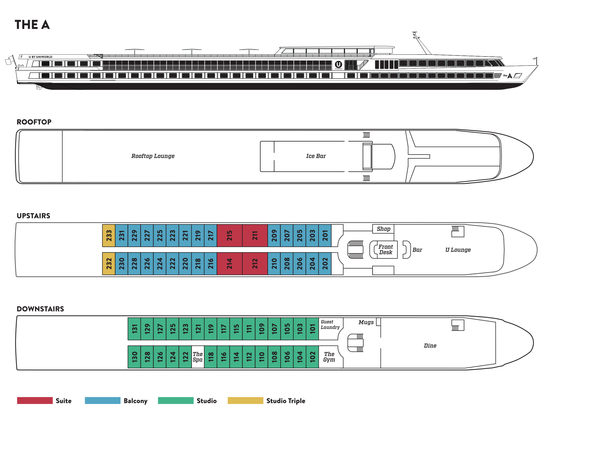 Kindly see photos to get an idea of the differences between the cabin categories.
The studio:
The French Balcony:
The suite:
(pictures are representative, and may not be exactly as shown)
Bedding:
Before renovations, our "The A" by U by Uniworld used to be a Uniworld ship. In our ship's previous life with Uniworld, two twin Savoir beds formed a queen bed, and the two beds could be physically separated. When "the A" by U by Uniworld debuted in April 2018, the two twin Savoir beds were positioned on a fixed queen-size bedframe, so the two twin beds can no longer be physically separated. However, each bed on A can be made up to have separate bed linens, and a partition can be placed between the twins. (Please let me know if you'd like to see a photo of the partition.)
| | |
| --- | --- |
| Can beds be separated and/or placed together | Studios and Balconies have a fixed queen-size bedframe; therefore, the bed cannot be separated. A partition may be placed instead. All suites have two mattresses with bed frames that can be slightly separated, except 214, which cannot be separated. |
---
The pricing:
We've negotiated some tremendous pricing for this cruise! The pricing in Canadian dollars is:
a.          Studio: double occupancy $2,379/p with solo occupancy $2,953/p
b.          French Balcony: double occupancy $2,659/p with solo occupancy $3,023/p
c.           Suite: double occupancy $4,409/p with solo occupancy $6,635/p
Kindly note: this includes your moving boutique hotel/ stateroom onboard "The A" from U by Uniworld river cruise, 14 meals (brunch and dinner), several included shore excursions, port fees, and gratuities. But also note that this excludes international air, transfers, pre or post hotel stays, alcohol, vacation insurance, optional shore excursions, personal expenditures such as spa, etc. Details on pre and post hotel options will follow.
There is a "group 1" that offers group air package from Montreal to Budapest, and return from Munich to Budapest.  (We'll investigate hiring a motorcoach from Ottawa to Montreal.) The ship sails from Budapest on Dec.6th to Regensburg on Dec.13th. The nearest international airport is Munich. So the option to have a group hotel package includes one night in Budapest, with transfers from Budapest airport to hotel, from hotel to Budapest pier, from Regensburg pier to Munich (an hour away.)
There is a "group 2" that offers group air package from Montreal to Budapest, and return from Prague to Budapest.  (We'll investigate hiring a motorcoach from Ottawa to Montreal.) The ship sails from Budapest on Dec.6th to Regensburg on Dec.13th. Group 2 goes to Prague when you get off the ship for two nights. So the option to have a group hotel package includes one night in Budapest, with transfers from Budapest airport to hotel, from hotel to Budapest pier, from Regensburg pier to Prague (about 3 hours away), 2 nights in Prague, and then a transfer from Prague hotel to airport.
Contact me for details on group air and group hotel options.
---
Update on the meals on-board our ship, The A. Oct.9.19
Remember when we booked, I'd advised that U by Uniworld was a boutique product. Anyone who has done other river cruises knows that this river cruise is at least 1/2 or even 1/3 of the price you'd normally pay for a river cruise. And we got terrific solo supplements being waived - unheard of! So, we have tremendous value on-board - and that's before all of the Shepherd's extras.
When we initially booked, U by Uniworld's strict policy was that 2 meals were included on-board (to give you a chance to explore a port during the day) - and no alcohol was included. But there was a shore excursion included in almost every port (with others available for purchase), and we'd gotten the gratuties on-board the ship included.
U by Uniworld just announced a policy change that going forward in 2020, they will offer 3 meals a day on-board the ship. It will be a buffet breakfast/ brunch combo for the first 2, and a menu dinner.
I've been told by my group rep that even though we're sailing in Dec.19, it looks as though we are going to be able to take advantage of that pending meal change, and 3 meals a day will be offered on-board. The first two will be buffet breakfast/ brunch type set up, and dinner will be menu. So, we are getting some extra benefits.
This is going to be a terrific gathering!
---
We're sold out! Let me know if you'd like to join the wait list.
As you may be aware, most river cruises sell out 9-12 months in advance. With all the wonderful folks from Shepherd's Fashions and friends, this will sell out quickly. (Pricing is guaranteed until March 31, 2019; but I believe we'll be sold out long before then.)
A deposit of 10% is required to secure your spot. Final payment for the river cruise will be due August 8, 2019.
---
Cancellation Policy
Should you need to cancel your booking or any portion of it, your cancellation must be received in writing and will be effective on the date of receipt. Cancellation fees are in addition to any cancellation fees that might be levied by your travel agent.  No refund for unused services or portions of the your trip.
Cancellation charges are:
Cancellation Notice Received Before Cruise-Start Date
Cruise Cancellation Charges Per Person
• 120 days or more C$250
• 119-90 days 20% of the fare **
• 89 - 60 days 35% of the fare **
• 59 - 30 days 50% of the fare **
• Less than 30 days 100% of the fare **
• No Show 100% of the fare **
**Fare is defined as the cost of any cruise purchased from U by Uniworld
Kindly note: cancellation after deposit (120 days or more) will have full cancellation penalty of the full deposit.
---
Onboard
The focus on "beauty inside and out" will allow you to be your best self.  And while there is a definite feminine slant to the "coffee chats" we'll be hosting onboard, everyone 18 years + is welcome. Feel free to bring your spouse, girlfriends, mothers and fathers, or adult kids. (Note: 5 spouses are already booked to join us - so don't feel shy to ask your's to come.) The Shepherds & Friends 'value adds' are supplementing an existing wonderful cruise that is intended for a wide audience. (Kindly note, however, river cruises aren't wheelchair-accessible.)
Besides the wonderful "coffee talks" Shepherds & friends will host onboard, there'll be great food, spots to lounge and catch up with new and old friends, and plenty of leisure time take in the sights. Also, you can choose to be active, or not. Onboard, if you want to take yoga classes and TRX, you can; and if you don't want to, that's fine too! And onshore, you can partake in the included shore excursions, purchase additional U Time shore excursions, or do your own thing - it's up to you.
Onboard, U by Uniworld is paperless - there is no daily cruise newspaper. Updates and programs are provided on screens. So you might want to check out the whatsapp app used for communication.
Oct.29.19 - from edox (being prepared for all)
INTERNET ACCESS On most ships, laptop computers may be borrowed from the front desk to send and receive emails and to access the internet. In addition, you may use your own laptop computer to access our wireless internet service (Wi-Fi). Wi-Fi is available throughout the ship and is generally best in the main lounge. The use of laptops and Wi-Fi service is complimentary. We also offer personal Wi-Fi hotspots for rent during your voyage. These can be used to boost your speeds onboard, and taken onshore for a Wi-Fi connection wherever you choose to travel so you don't have to rely on your cell phone provider's network. Please note: The internet connection might not be available in remote areas or when transiting locks. Expect the connectivity speed to be slower than your home connection, and not suitable for services requiring a high bandwidth such as Skype or YouTube
If you like to enjoy a glass of vino or two, or another adult beverage, kindly note alcohol is not included in your cruise fare. You can purchase a la carte, or you may wish to buy a beverage package.
LAUNDRY Oct.29.19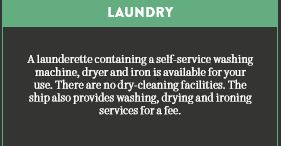 FRIDGES OCT.30.19 - from U by Uniworld
Q: Are there fridges in rooms:
Q: Do guests have access to fridges in kitchen if they need to store medicine? (how about lesser 'wellness' cause of purchased alcohol onshore?)
A. While there are no fridges in staterooms, U can store medicine for guests if need be. U does not store alcohol purchased onshore. (Furthermore, while we allow guests to bring alcohol they've purchased in port and through shore excursions, these beverages should not be consumed onboard and we reserve the right to prohibit and retain all alcohol bought ashore for consumption onboard the vessel.)
Q: Are there safes in rooms?
Q: Are the hair dryers in rooms?
Q: What is the electricity/ voltage of plugs in rooms?
A: There are more European, but there is at least one US/ Canada. See chart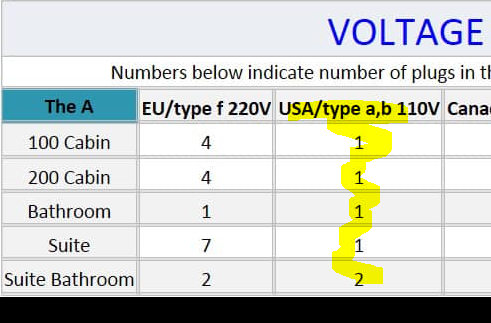 ---
Beverage package is $469 CDN
U Drink Package:
The pre-paid U Drink Package covers the cost of an individual guest's onboard drinks for the duration of their cruise. This package includes drinks by the glass from entire bar selection.
All drinks by the glass are included (including all soft drinks, cocktails, spirits, wine, champagne and beer).
Bottles are available for an additional charge (wine, spirits and champagne)
The package is non-transferable to other guests and intended solely for the consumption of drinks by the purchaser of the package.
Only one drink can be ordered by the guest at a time. Additional orders at the same time will be charged.
The bartender has the right to stop serving at any time for safety reasons if anybody appears too drunk, or if the above rules are broken.
I was working with my group co-ordinator to add about 10 folks who've asked to add the beverage package, and Danny indicated that it's actually required (and way easier) for everyone to add the beverage package by themselves online.
Kindly note: All bookings are registered so all you need is your last name and booking number to access the Add-On page.
It actually to be added online at https://www.ubyuniworld.com/ca/add-ons
OCT.29.19 -

from U by Uniworld's edox (being prepared for all)
COMPLIMENTARY BEVERAGE PROGRAM All the water, tea and coffee you can drink will be included while aboard a U River Cruises cruise. We know you're going to need the pick-me-up with all the exploring you'll be doing, so we've got your back. -
"DRINK PACKAGE The prepaid U Drink Packages cover the cost of an individual guest's onboard drinks for the duration of their cruise, including by the glass from the entire bar selection. Alcoholic and nonalcoholic packages are available and can be booked onboard or before your cruise. Please visit www.UbyUniworld.com/add-ons to view pricing or book online."
Oct.30.19

from U by Uniworld
Average price for a drink if purchase a la carte?
==> Cocktails are around 9 euros per drink, beer is around 6 euros and wine is anywhere between 8-12 euros a glass.
---
Have some other questions?
U by Uniworld's FAQ (frequently asked questions):
See https://www.ubyuniworld.com/ca/faq
---
Currency
See some general advice here https://www.ricksteves.com/travel-tips/money/cash-tips Kindly note, Hungary still uses their traditional currency, but the other cities/ countries we'll visit on the ship use the Euro. Also note, many restaurants in Austria take cash only, not credit card (although ATMs are often close by).
Weather
For the best info about weather in Europe in December, consult 30 year averages. See 
https://www.timeanddate.com/weather/hungary/budapest/climate
https://www.timeanddate.com/weather/austria/vienna/climate
Note about river water levels:
Unlike ocean cruises where water ebbs and flows with the tide, rivers are fed by streams, snowmelt and rainfall and all that water passes through a finite river bed.  As such, there are times where the water is either too high or too low for ships to safely navigate.  Should this be the case during your sailing, your itinerary may be modified and supplemented with motor coach transportation.  The river cruise operator (U by Uniworld) you have chosen will do everything they can to minimize the impact of high/low water on your program but some flexibility on your part will be required.
additionally, from U by Uniworld's t&c:
"The very nature of a river, its sources, and networks of bridges and locks, means that there will be times when weather or other conditions in a region require U by Uniworld to make adjustments and/or modifications to an itinerary. Although every effort will be made to keep itineraries and vessels as they are shown on the website. U by Uniworld reserves the right to substitute itineraries and vessels. In such cases, we will do everything we can to make sure the locations visited, the excursions taken or vessels offered are similar to the ones originally planned. Any changes to itineraries will not result in eligibility for a refund. Itineraries are subject to change without notice and may need to be altered specifically because of water levels, wind factors, or other conditions. Guests who choose to cancel or interrupt their cruise due to an itinerary change will be subject to our standard Cancellation Policy."
---
Besides the video tour above, there's nothing like photos to help you visualize yourself onboard. Please don't worry if you find many of those pictured of a younger vintage than you. (Or the fact that the season is wrong  - 'The A's just experienced its first Christmas-market cruise, and formal U by Uniworld's marketing photos are nt yet available. For now, you can check some of their recent client instagram postings that are shared on U by Uniworld's website here  https://www.ubyuniworld.com/ca/the-u-community)
Just know that we have a tremendous opportunity onboard this new modern and sleek boutique style ship!
Here's a recent news article about the metamorphosis of U by Uniworld: see https://www.pressreader.com/canada/montreal-gazette/20181208/282071982982653
And here's a selection of photos to give you a sense of the ship. (And remember, mentally add a bit of tinsel to age the hair pictured!)
Contact Sheila Gallant-Halloran for more information:
sheila.gh@visiontravel.ca or sheila@lushlife.ca
613-837-0699
TICO# 50023501
OPC# 703340
CPBC# 67229