Beauty Inside & Out  - 
December 6-13,2019
Dashing Through the Danube with Shepherd's Fashions & Friends
updated Jan.17.19
You're invited to join us aboard one of U by Uniworld's four star ships, in December 2019 for an enchanted cruise. We're celebrating the season by dashing through the Danube, exploring the Christmas markets of Europe with new and old friends.  But don't hesitate - we're already 75% sold out! (And the sailing date of Dec.6.19 has been removed from U by Uniworld's website as we are now holding all the cabins.)
Your hosts are fashion and business leader, Marlene Shepherd; Cityline's style maven, Lynn Spence; happiness expert, Kathie Donovan; nutrition/fitness specialist, Kathy Smart; and travel expert, Sheila Gallant-Halloran.
Watch: 
We'll visit historic city centres, like Budapest and Vienna, nestled along the Danube River, steeped in old world charm that's beautifully reflected in joyful Christmas markets.  We'll get the inside track on the best places to shop and visit the markets with Lynn Spence to make the most of our stopover in each memorable city.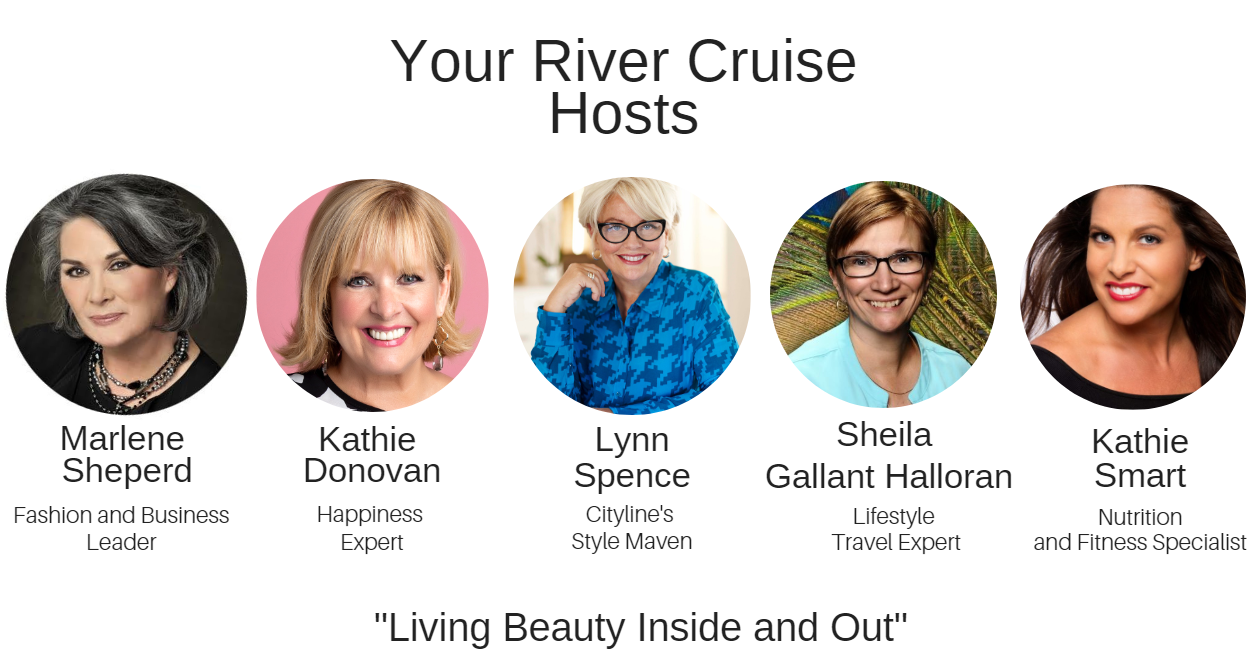 Onboard, we'll offer short seminars, focused on beauty from the inside out with our guest presenters, who will set the stage for our visit to each city and offer Coffee Talk style chats about everything from home and style tips to managing hormones and navigating change with grace.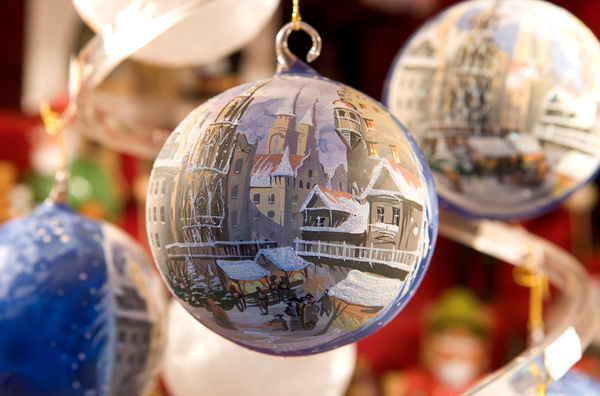 Put yourself at the top of your gift list and join us for a travel experience that is sure to become a treasured memory and perhaps a valued tradition, just in time for the holidays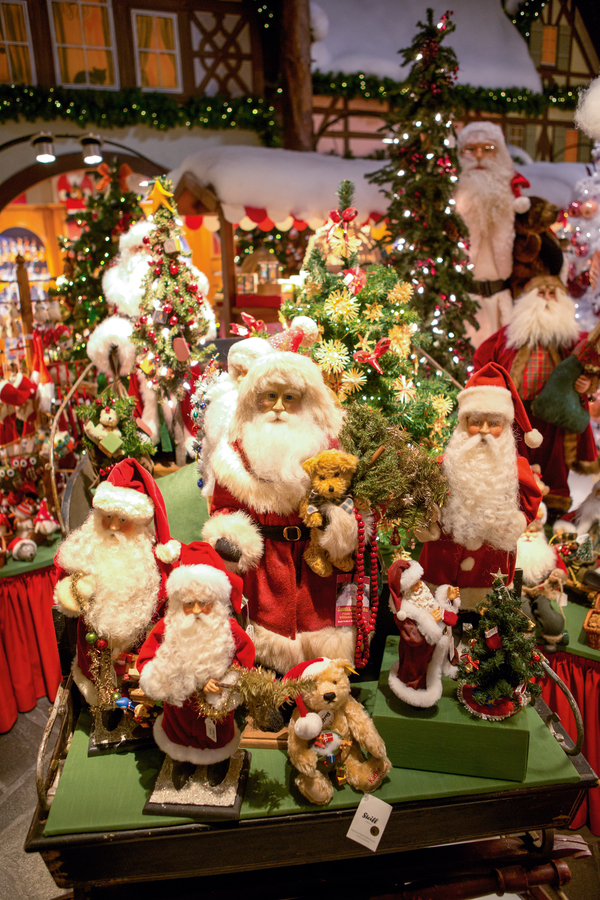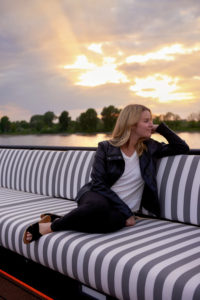 We have special pricing, loot bags, and goodies, as well as an onboard welcome cocktail reception, that is only available to our guests. (We may take over the whole ship!)
Please contact Sheila at sheila@lushlife.ca or sheila.gh@visiontravel.ca or call 613-837-0699 to join us onboard.
---
The Itinerary
See for a day-by-day itinerary, as well as detail about included excursions, and optional (for a fee) "U Time" excursions.
https://www.ubyuniworld.com/ca/river-cruises/dashing-through-the-danube?year=2019
See also the overview of the itinerary (these are estimates, and subject to change.)
---
The Ship - "The A"
Parent company, Uniworld River Cruises, renovated two of their ships for their new cool sister company, U by Uniworld. We'll be sailing on "The A"  on our Dashing the Danube river cruise. (U by Uniworld's other ship is named "The B", which sails the Seine). The A is a sleek and chic black and white version of it's former self, and offers a wonderfully intimate experience. Maximum occupancy is 130 passengers.
"The A" has just been named the "best new river cruise ship in 2018" by Cruise Critic.  See https://www.cnn.com/travel/article/cruise-critic-editors-picks-2018/index.html  And the ship itself, "the A," has been named as one of the top 100 World's Greatest Places to Visit by Time Magazine. See http://time.com/collection/worlds-greatest-places-2018/  and http://time.com/collection/worlds-greatest-places-2018/5366761/the-a-cruise-ship/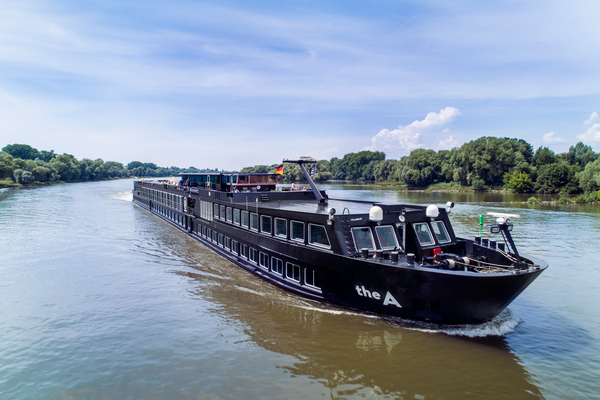 ---
The cabins:
We essentially have 3 cabin types - studio, French balcony, and suites. (There is a fourth category called a studio triple, that has 2 cabins available, and is quite small with 3 berths.)
Kindly note:  Studios and Balcony cabins are 128 sq ft. Suites are 256 sq ft.
The cabin size is the same between the Studios and Balconies. The studios are on the lower deck (highlighted in green below), and have a 5 ft x 3.3 ft window that does not open. The Balconies (highlighted in blue) are on the upper deck, and have a French Balcony door that slides open. The Studios (highlighted in red) are also on the upper deck. There are also two studio triples (highlight in yellow) on the upper deck.
Please note: there is no elevator on the ship.
There are also no cabins with external / sit out balconies - there are only French balconies on both the Balcony and Suite categories.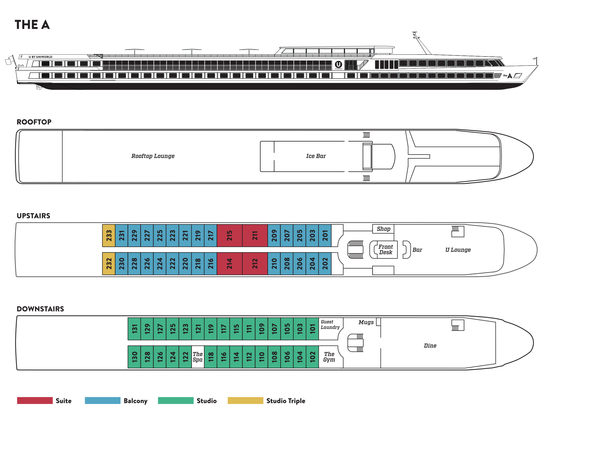 Kindly see photos to get an idea of the differences between the cabin categories.
The studio:
The French Balcony:
The suite:
(pictures are representative, and may not be exactly as shown)
---
The pricing:
We've negotiated some tremendous pricing for this cruise! The pricing in Canadian dollars is:
a.          Studio: double occupancy $2,379/p with solo occupancy $2,953/p
b.          French Balcony: double occupancy $2,659/p with solo occupancy $3,023/p
c.           Suite: double occupancy $4,409/p with solo occupancy $6,635/p
Kindly note: this includes your moving boutique hotel/ stateroom onboard "The A" from U by Uniworld river cruise, 14 meals (brunch and dinner), several included shore excursions, port fees, and gratuities. But also note that this excludes international air, transfers, pre or post hotel stays, alcohol, vacation insurance, optional shore excursions, personal expenditures such as spa, etc. Details on pre and post hotel options will follow.
I hope you can join us - but - please do contact me, and act quickly if you're interested. We're already 75% sold out! As you may be aware, most river cruises sell out 9-12 months in advance. With all the wonderful folks from Shepherd's Fashions and friends, this will sell out quickly. (Pricing is guaranteed until March 31, 2019; but I believe we'll be sold out long before then.)
A deposit of 10% is required to secure your spot. Final payment is August 8, 2019.
---
Onboard - besides the wonderful "coffee talks", there'll be great food, spots to catch up with new and old friends, leisure time take in the sights, and maybe you might enjoy a glass of vino or two (a la carte).
Alcohol is not included. You can purchase a la carte, or you may wish to buy a beverage package.
Beverage package is $469 CDN
U Drink Package:
The pre-paid U Drink Package covers the cost of an individual guest's onboard drinks for the duration of their cruise. This package includes drinks by the glass from entire bar selection.

All drinks by the glass are included (including all soft drinks, cocktails, spirits, wine, champagne and beer).

Bottles are available for an additional charge (wine, spirits and champagne)

The package is non-transferable to other guests and intended solely for the consumption of drinks by the purchaser of the package.

Only one drink can be ordered by the guest at a time. Additional orders at the same time will be charged.

The bartender has the right to stop serving at any time for safety reasons if anybody appears too drunk, or if the above rules are broken.
---
Here is a selection of photos of life onboard "The A." Please don't worry if you find many of those pictured of a younger vintage than you. (Or the fact that the season is wrong  -  I'll add some pictures from "The A"'s first Christmas-market cruise last week shortly when we get release from U by Uniworld's marketing - but for now, you can check some of their recent client postings here- including this year's Christmas  markets  https://www.ubyuniworld.com/ca/the-u-community) Just know that we have a tremendous opportunity onboard this new modern and sleek boutique style ship, and Shepherd's Fashions and friends will ensure you are taking care of you!  (Here's a recent news article about the metamorphosis of U by Uniworld: see https://www.pressreader.com/canada/montreal-gazette/20181208/282071982982653
The focus on "beauty inside and out" will allow you to be your best self.  And while there is a definite feminine slant to the "coffee chats" we'll be hosting onboard, everyone 18 years + is welcome. Feel free to bring your spouse, girlfriends, mothers and fathers, or adult kids. (Kindly note, river cruises aren't wheelchair-friendly.) And, you can choose to be active - or not!
Here's a selection of photos to give you a sense of the ship. (And remember, mentally add a bit of tinsel to the hairstyles pictured!)  You may also check out this video tour done by a cruising travel journalist/ cruise reviewer  https://www.youtube.com/watch?v=692fzx0Bfh4 to get a sense of the ship.
Contact Sheila:
sheila.gh@visiontravel.ca
613-837-0699
TICO# 50023501
OPC# 703340
CPBC# 67229
---
We also have a cruise night event planned for January 15, 2019 at Shepherd's Fashions.
Order your complimentary ticket here: https://www.eventbrite.ca/e/beauty-inside-out-dashing-the-danube-fashion-show-travel-event-tickets-54435228233
(We need to keep track of head count, as there is limited seating.)
Join us for a very special evening!  The timing of the cruise night event will be as follows:
Check in                                  6:00 pm
Fashion Show                        6:15 pm
Travel Presentation              7:00 pm
Shopping/ consultations:    8:00 pm
Contact Sheila Gallant-Halloran for more information.
sheila.gh@visiontravel.ca
613-837-0699