[tweetmeme]A very "classy lady" is found in the Eastern Caribbean, just 11 miles off the coast of St. Martin. Anguilla (pronounced ann-GWIL-ah) is the northernmost of the Leeward islands, and is only 35 square miles in size (or 16 x 3 miles, at the widest points). Despite being small in stature, she packs a powerful "1, 2" punch. (And I don't mean her awesome Pyrat rum.)  Anguilla's killer punches are her 33 beaches: powdery, pristine, and public.
And this petite gal packs a wallop. Her "1" punch is her northern shore beaches, and she can follow with her "2" punch of the southern shore beaches (which I'll follow up on in a separate post).
Some highlights of the northern shore "1" punch:
On the west end, Barnes Bay has white sand, gentle surf, and interesting coral. I ate a sumptuous meal at Mango's Seaside Grill right on the beach, and stayed at the brand new Viceroy hotel (sleek, upscale, and beautiful).
Mead's Bay is long and wide, has gentle breakers lapping the shore, and offers great swimming and snorkelling. Terrific accommodations are on (or very near) the beach; and I toured Sirena, Frangipani, Meads Bay Villas, Carimar Beach Club, and Malliouhana Hotel & Spa.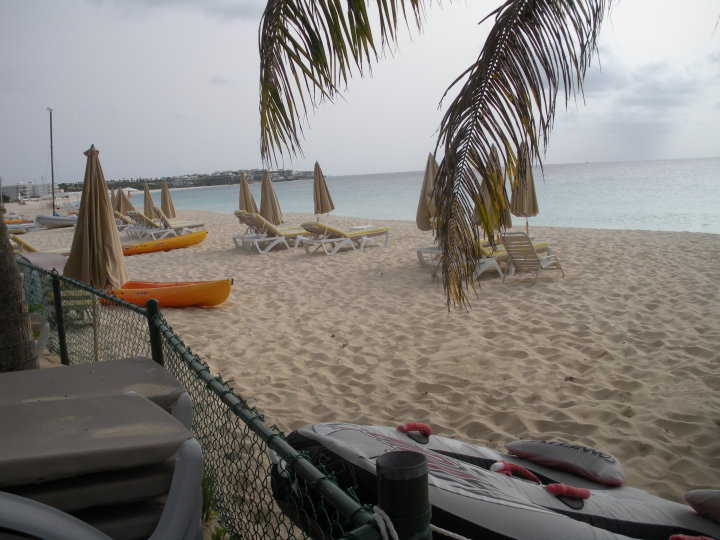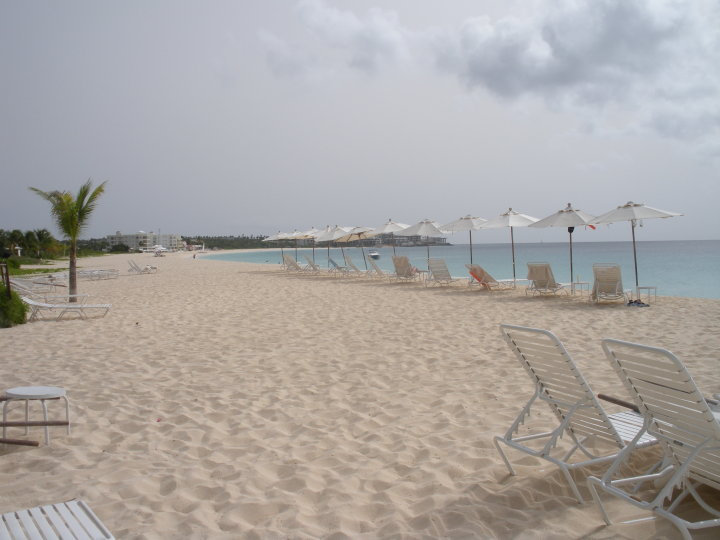 Anguilla's "seaport" is at Sandy Ground/ Road Bay, offering boat rides to Sandy Island (where I had an excursion one afternoon) and Prickly Pear. The bay is bordered by high cliffs, and the calm beach is protected by offshore shoals (so, terrific for walking, sunning, and swimming).  And you'll find high cliffs, calm shallow water, and good snorkelling at Crocus Bay.
Currents, etc., may limit swimming at some other beaches, but you can go birding at Katouche Bay, see nesting sea turtles at Limestone Bay, discover archaeological Amerindian petroglyphs at Island Harbour, and hike at Captain's Bay.
But the knockout punch is really the popular Shoal Bay East. This beach has been named "world's best beach" by the Travel Channel, and has won awards and accolades from travellers and travel reviewers alike.  The mile long powder sand beach has fantastic reefs, and offers great swimming and snorkelling.  It is home to Ku resort, and Shoal Bay Villas. There is a PADI shop on the beach, and you can rent equipment.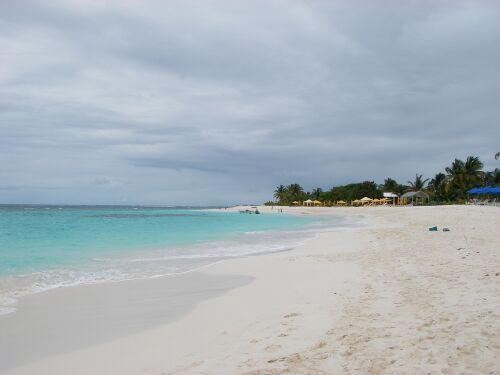 So, Anguilla's "1" punch, the northern shore beaches, certainly packs a wallop – but keep your eyes peeled for her follow up. The "2" punch is equally powerful: the southern shore beaches.