Adventure, Voyages, Wellness, & Family Travel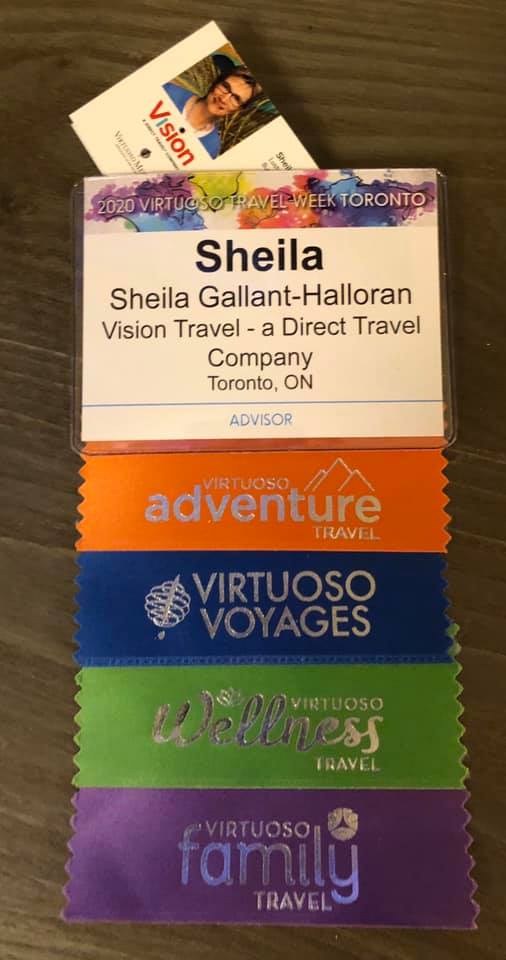 I was in Toronto this week for a Virtuoso Travel roadshow at the Four Seasons Toronto.
It was a great professional conference in Toronto with @virtuosoltd at @fstoronto , and besides being recently honoured by Virtuoso with the designation of "top producer" in my four chosen communities of Adventure, Voyages, Wellness, and Family Travel; I was given the banners to put on my name tag at the conference to share the honour with other attendees.
It was wonderful to show off my community involvement in Virtuoso advisor communities of Adventure Travel, Voyages (Cruises), Wellness Travel, and Family Travel. And I've been invited to join the brand-new Sustainability community, based on my support of sustainable tourism.
It's a  wonderful honour from my worldwide-luxury travel consortium, Virtuoso, for me to be named as a "top producer" amongst 20,000+ Virtuoso travel advisors around the world. And I am thrilled to be able to get the recognition, but, more importantly, get access to special offers, my top suppliers' info and knowledge, and also that means special travel resources and deals for you.
So, what's in it for you?
Look at some of the info below. And – let me know how I can help you travel the world.
I got to meet with Jacinta McEvoy of Lindblad Expeditions, to learn about what's new with Lindblad, and have some special offers for Galapagos and Alaska. And Cara Matthews and I were chatting about Quark.
I met with Neil Dudley of AMA Waterways, and have some special offers for Europe and Mekong river cruising.
I met with Michelle Palma of Uniworld Boutique river cruises, and have some fantastic things coming with Uniworld.
I met with African Travel, Nomadic Mongolia, Rocky Mountaineer, Backroads Travel, Pierce & Leslie, to talk about Adventure Travel.
I met with Monaco Tourism Board, Hawaii Tourism Board, Swiss Tourism, and Slovenia Tourism Board (plus others) to talk about family travel and wellness. And I met with hotelier partners like Baglioni, and Four Seasons, and One and Only, and more.
I met with Windstar Cruises, Regent, Crystal, HAL, Seabourn, NCL, and more to discuss what's new with cruises.
Whatever you're looking to do in travel, wherever you want to go, I have the connections to ease your path – and – the offers and know how to make it happen for you.
Let me know if I can help you travel the world.
sheila@lushlife.ca
613-837-0699