Did you know that new research shows that trip planning can in fact lift our spirits?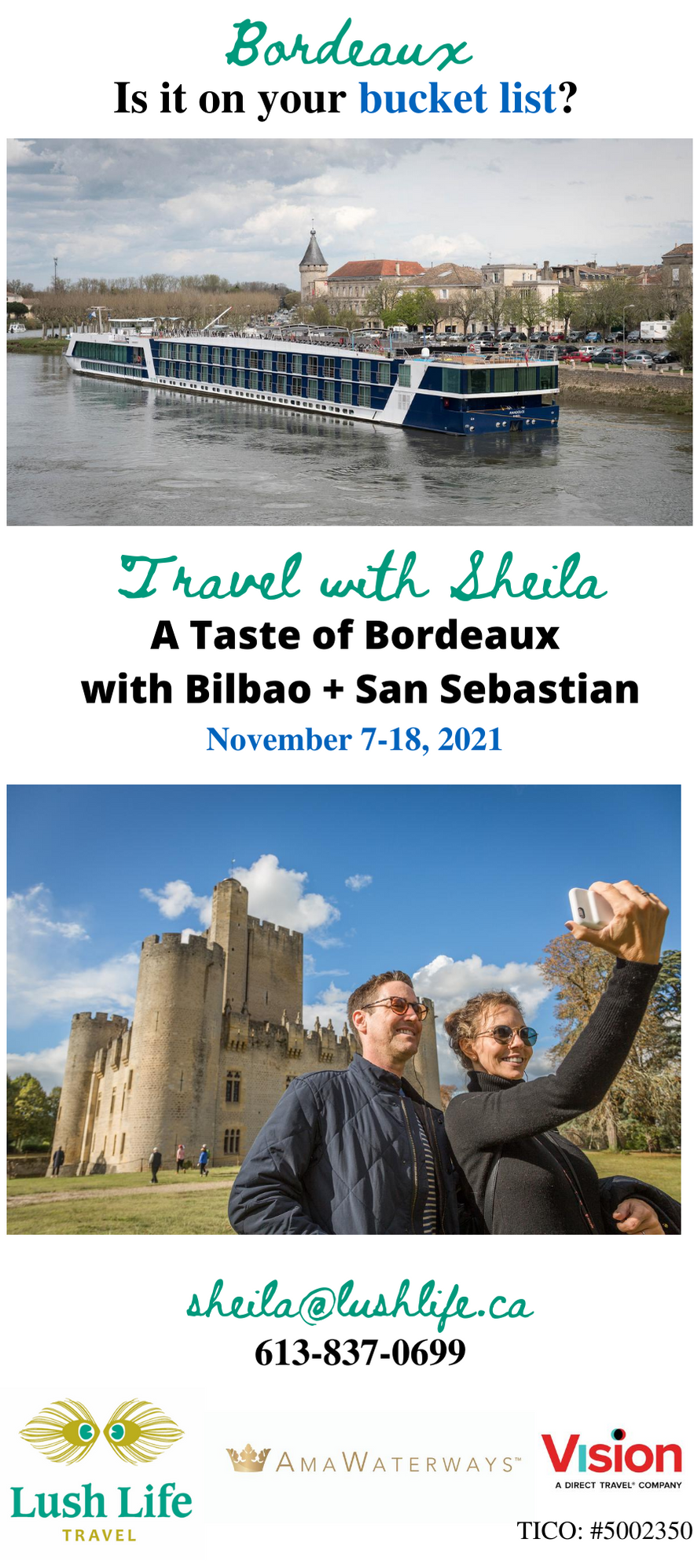 97% of people feel that having a trip planned actually makes them happier!
While 71 percent report having more energy when they have a trip planned for within the next six months 
Article
Why not lift your spirits – Plan Now, Travel Later?
And speaking of spirits – you can learn about wine too, onboard a wine cruise I'm hosting with AMA Waterways in November 2021.
I have some terrific group pricing – and the price goes up Sept.30.20 by $900/p, so if you're tempted to put something on the books to raise your spirits now, give me a call. I feel it is my duty to make your happier, and give you more energy now!
And a river cruise that gives you a Taste of Bordeaux is just the ticket. Plus, we have a great pre-cruise add on to Bilbao and San Sebastian, Spain. Are you an art fan – perhaps a trip to Bilbao's Guggenheim museum would nurture your soul? Are you a foodie? Then San Sebastian is for you!
Although Anthony Bourdain didn't want you to go to San Sebastian. Bourdain wanted "to keep San Sebastian for himself — he jokes to viewers, "Don't come here" — travelers can follow in the vein of Parts Unknown and sample the Basque cuisine for themselves."  He said San Sebastian was the "most awesome food scene in all Europe."
I still watch Anthony on my pvr, and have a little visit with him now and again. I miss his joy. And his San Sebastian show is pure and full of love. So, it seems fitting to go visit San Sebastian in his honour now. See 
Article
And watch the trailer for the show.
Of course the food is magnificent onboar the ship too. AmaWaterways is the only river cruise line to be inducted into the prestigious La Chaine des Rotisseurs – an exclusive international culinary society.
And watch AMA here
Want to join me and save $900/p? Ask me to strike a courtesy hold for you before September 30th – I'll need your passport names, and dates of birth.
And while AMA has suspended its regular North American market sales of their European river cruises until November 15, 2020, they are still conducting Rhine river cruises in the European market for German citizens. That means they are ahead of the game in preparing their guests and crew in how to sail safely, and they've instituted health and safety protocols since July that they are putting in practice daily. See 
https://www.msn.com/en-us/travel/news/amawaterways-suspends-river-cruises-through-nov-15/ar-BB196I3u
River cruising is going to have a great take off for folks travelling post-pandemic. They are already an average of only 150 people onboard, and have to follow health and safety rules of each country they sail through – so standards are already high.
Give me a call if you'd like to join me!
sheila@lushlife.ca
613-837-0699